Socket Panel CYB
VGA, 3.5mm audio, DVI, HDMI, DisplayPort, Composite video, RCA, S-Video, Component video and USB
Socket panel for Schneider/Thorsman system CYB, TEK, OptiLine or for wall mounting. Supplement with optional WALLOPT for wall mounting.
Art. nr: SU-110-111, SU-110-113, SU-110-114, SU-110-115, SU-110-116, SU-110-117, SU-110-118, SU-110-119, SU-110-120, SU-110-121, SU-110-122, SU-110-123, SU-110-124, SU-110-130, SU-110-131, SU-110-140, SU-110-143, SU-110-145, SU-110-146
Socket Panel Exxact
VGA, 3.5mm audio, USB, HDMI, DisplayPort, RCA Stereo and XLR
Socket Panel for Schneider Exxact (55x55mm).
Art. nr: SUP-WP-EU-001, SUP-WP-EU-002, SUP-WP-EU-003, SUP-WP-EU-004, SUP-WP-EU-005, SUP-WP-EU-006, SUP-WP-EU-007, SUP-WP-EU-008, SUP-WP-EU-009, SUP-WP-EU-010, SUP-WP-EU-011, SUP-WP-EU-012, SUP-WP-EU-013, SUP-WP-EU-014, SUP-WP-EU-015, SUP-WP-EU-016, SUP-WP-EU-017, SUP-WP-EU-018, SUP-WP-EU-109, SUP-WP-EU-020, SUP-WP-EU-021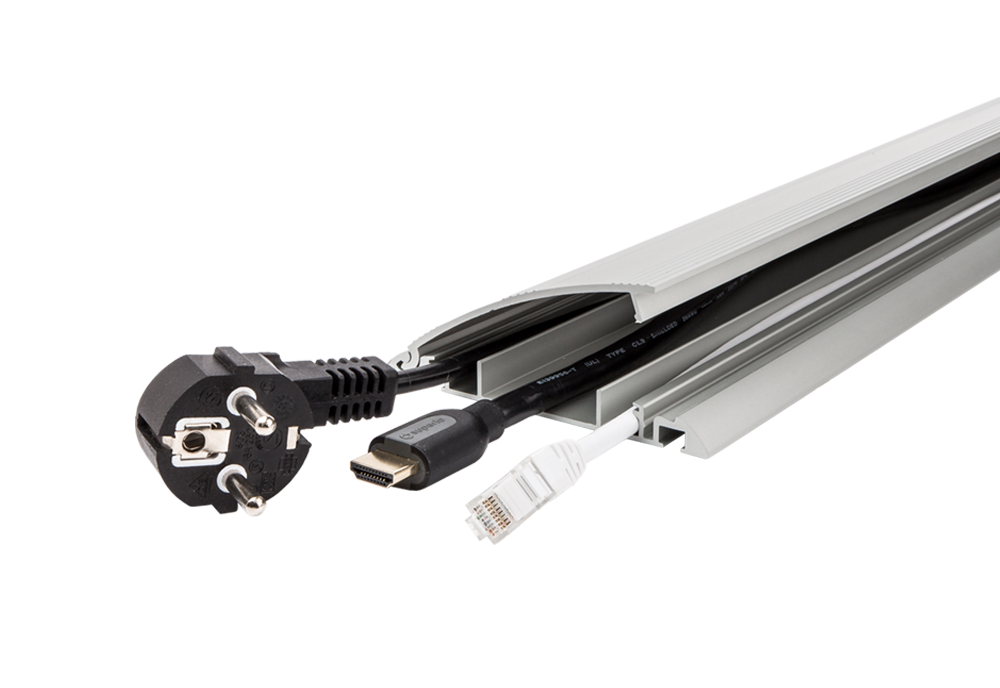 Floor Channel
Floor channel you can open. The wiring is laid in from above, which makes the installation and service smoother. In total, it holds approx. five to seven cables inside.
Art. nr: SUP-AFC-2000
Cable Bag
Cable Collection Bag
Collection bag of textile model that fits under, for example, CONI Table Connect. Perfect with "Magic Hole modules" and cable weights. Velcro opening in one end. Screwed or hung up with hooks (which are attached).
Art. nr: SUP-CB450
Cable Hook
SUP-KK1 and SUP-KK2 are cable hooks that are easy to mount on the wall to collect all your cables in a neat and tidy way. By putting together, SUP-KK1 and SUP-KK2, you have the choice between having one, two or hooks to hang the cables on. Each cable hook has a slit, where you can fasten the cables with a Velcro strap.
Art. nr: SUP-KK1, SUP-KK2
Velcro Series
Hook Loop
Velcro straps to easily keep your cables in place. Reusable, safe and adjustable bundle solution that is gentle on cables. Also available on reel. Ideal for Superio's cable hooks.
Art. nr: SUP-VS-BBH-125-25, SUP-VS-HL-120-200-25
Table Connect
For Bachmann CONI and Neets
Superio Table Connect are design for easy access of cables and room control functionality. Designed for integration with Bachmann CONI and Neets Control Systems. They come in two different versions and are available in three different color options. Table Connect are perfect for both "magic hole" system and standard module system. There is room for cable storage inside the Table Connect.
Art. nr: TC1-WA, TC1-SA, TC1-AA, TC2-WA, TC2-SA, TC2-AA, TC3-W, TC4-W